Thursday, November 15
The College of Education & Human Development's Committee for Instructional Effectiveness, Diversity Committee, Staff Council, Alonzo A. Crim Center for Urban...
Friday, November 16
A panel discussion involving industry experts. The topic of discussion is Ethical Issues in the University Setting. The format will include guest panelists,...
Friday, November 30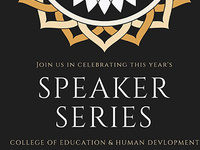 Young-Hoon Kim, Underwood Distinguished Professor in the Department of Psychology at South Korea's Yonsei University, will give a presentation entitled, "The...